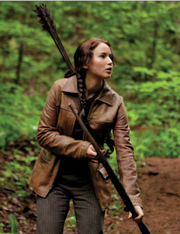 Katniss Everdeen, of Hunger Games fame, is a pretty awesome heroine, right? She hunts and takes care of her family after her father dies. She uses every resource at her disposal to survive a terrible situation (namely the burtal televised murder of twenty-three teenagers). Considering that her competition for Most Popular YA Heroine is Twilight's less-than-impressive Bella Swan, it's probably pretty safe say that she's the best thing to happen to teenaged girls since Hermione Granger.
But there is some dispute about that on the interwebs. According to the
Vancouver Sun
, Katniss isn't a feminist heroine because she isn't "threatening to our social order" since there's nothing new about women going to bat for their families or learning martial arts. This is fair but it also doesn't make her anti-feminist. The Sun, though, isn't arguing that she's anti-feminist, merely that she isn't actively feminist. In fact, the Sun recommends that we stop looking for feminist messages at all in the
Hunger Games
and merely enjoy it for what it is--imaginative escapist literature.
The good people over at
Feminist Legal Theory
, on the other hand,
do
argue that Katniss is antifeminist because she returns home after all the action is finished to moon over men. To these people I ask, have you actually read the books? The Gale-Peetah-Katniss love triangle is never very central to the plot. Yes, Peetah is in love with her but Katniss uses that the way she uses every other tool available to her--to ensure her own survival. She's not exactly the mooning type. It isn't until the last five or ten pages of the third book that she even considers a traditional track to happily-ever-after: marriage and children. But it ends with kids, you cry, it always ends with a wedding and a child! But consider this:
Hunger Games
is a story about destruction. It's a story about death and disorder, the fall of one corrupt government and the rise of another. It's a pretty bleak look at the future. But
Suzanne Collins
(author of the
Hunger Games
trilogy) ended the story with hope. She gave us the possibility of a better future through the children of people who know better. If the protagonista of the story had been a protagonist, no one would care that the story ended with children--in fact, it would be viewed as a clever metaphorical device but because Katniss is a
girl
, it's inherently anti-feminist that she brought new lives into the world.
The Last Psychiatrist
also took issue with Katniss as a feminist character. According to this post, "Katniss never makes any decisions of her own, never acts with consequence." Apparently she also spends the entire book "protected by men." Well my apologies to TLP but that is a load of crap. Katniss is not protected by men the entire book. In fact, the majority of the people trying to
kill
Katniss are men. And she does a fair bit of protecting and killing male characters, too. Peetah would have literally died in the first book if Katniss hadn't made the
decision
to save his life by risking her own.
There are a few
other
examples
of bloggers who have taken issue with Katniss but I will not be one of them. Sure, I'm not thrilled that she has literally been turned into a
Barbie
doll (at least she's not wearing heels) but that's not the fault of the book, it's the fault of a society that is obsessed with beauty and perfection. So don't blame Collins or Katniss for what Hollywood has done with
Hunger Games
. On its own, the book says, "Look, there are some things that are going to be out of your control but you can use what you've got to overcome the odds," which is a pretty empowering message for girls.
Katniss is a strong girl in a crappy situation. Sure she wears a pretty dress once or twice but she also shoots arrows and kicks some serious Capital butt. So if you give me the choice between Katniss and a
wimpy girl
who spends four books being infantilized by a murderous but oh-so-perfect man, I know who I want playing on my kickball team.