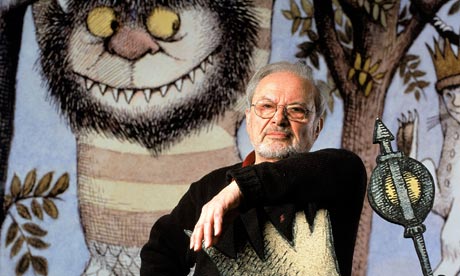 My dear friends, it is with a heavy heart that I must inform those of you who don't yet know that
Maurice Sendak
passed away this morning after suffering a stroke. Sendak was the author of over a dozen children's books and the illustrator of scores more. Best known among his stories is the seminal
Where the Wild Things Are
(1977).
The majority of Sendak's works were published in the 1970's but he has by no means been absent from the public eye since then. His most recent title,
Bumble-Ardy
, was published a mere eight months before his death. Sendak also forever endeared himself to me by
appearing on the "Colbert Report"
earlier this year.
Sendak was not only the author of terrific and fantastical stories, he was also the creator of two of my most beloved childhood companions. I'm talking, of course, about my imaginary friends, Didi and Deed, who originated as illustrations in Sendak's
Chicken Soup With Rice
. As a child, I was never far from Didi and Deed, regardless of whether I was at the doctor's office or on family vacation at Lake Michigan.
Sendak gave me, and children around the world, incredible characters who simply refused to stay on the page. For that, Mr. Sendak, I thank you. The world of children's literature would not have been the same without your contribution. God bless you, wherever you are, and let the wild rumpus start.